The on-air premiere is Saturday 11/15 on MTV2's Headbangers Ball.
It will air between 2am-3am EST and 11pm-12am PST.
If you do the DirectTV thing, it airs live from the East Coast feed.
Pelican will be a part of Rhapsody Rocks Chicago at SubT on North Ave in Chicago.
21+ - Doors at 8pm. More info and to RSVP just
NEW PELICAN VIDEO! DEAD BETWEEN THE WALLS

Online Premiere + MORE INFO HERE

HeadBangers Ball Premiere this weekend!

..
This Is How Badly PELICAN Want to Tour with JUDAS PRIEST
05.08.08

When Laurent was an underage alcoholic he ALWAYS made sure to get home in time on Saturday nights to watch Headbangers Ball...and now he's not only got a video premiering (more on that later) on the show but they are posting about his boy chest...he'll be the first to tell you he can die a happy man now...
photos from House of Blues, San Diego CA 4/17/2008
05.06.08
photos from the San Diego HOB show from a few weeks back can be viewed HERE
Shows uncancelled - another tour update
05.02.08
Hey folks,

Sorry to keep jerking you around.

While en route to a family funeral in Europe that would have meant cancelling our May 1st-3rd shows, the complicated obstacle of fine print passport laws blocked departure. Take note world travellers: it is not enough to have a valid passport to travel internationally it must be valid for 90 DAYS FROM THE DATE OF PLANNED RE-ENTRY TO THE STATES. Armed with only 87 days of passport validity, our member was blocked from attending funeral proceedings.

Unfortunately, this transpired late enough in the day that we could not make last night's scheduled performance in South Carolina, but all shows forward will proceed as planned.

Thanks to everyone who has written with their condolences. We will see you all soon.

Yours, pelican
Update on status of May 1st, 2nd and 3rd shows
04.30.08
Despite the difficult circumstances we're currently in, Pelican has decided that we would rather play where it's possible. In that spirit, we are NOT canceling the May 2nd or 3rd shows. We will be performing as a three piece with special guests for the May 2nd show, still opening for Thrice and Circa Survive at the regular slotted time. May 3rd MAY be as a full band again if the Gods of airline travel are with us that day. We hope to see you there. Unfortunately we can not perform the May 1st show as a three piece due to the song arrangements and constraints it poses.
More show cancellations. And apologies.
04.29.08
Due to a family death and resulting funeral, Pelican will be forced to cancel our shows on Thursday, May 1st in Columbia, SC, Friday, May 2nd in Charlotte, NC, and possibly Saturday, May 3rd in Richmond, VA. I hope there is some consolation in the fact that the cancellations that have been transpiring on this tour are the exception and not the norm as we've only cancelled 4 shows to date prior to this outing. So very sorry to the fans in said towns, we will certainly be back the next time we go out.

Thanks,
Pelican
photos from Tucson, AZ - 4/15/08 + Tempe, AZ - 4/19/08
04.23.08

our friend Andrew Weiss took a bunch of rad photos at our recent shows in Arizona.
you can check them all out HERE.
Vegas Fans
04.20.08
Dear Pelican fans in Vegas: We are so so bummed that we weren''t able to make our first show in Vegas. We will definitely be back. We're just as disappointed as you are, and obviously the fact that refunds aren''t issued for people who come for openers … well that sucks as well. A bit more on what happened, as it wasn''t just simple van trouble: On our way out that morning the axle on our trailer, unbeknownst to us, experienced a malfunction that caused one of the back tires to freeze up. The friction from the driving started a fire on the side of our trailer. Obviously we were forced to pull over, at which point the tire literally exploded. The gear was fine but the side of the trailer was completely charred. The fire department and the cops came out. We''re all Ok, but working with U-Haul to replace the trailer while we were cooking in the desert sun took five hours. We drove to Vegas as fast as we could, hoping to basically run onto the stage and do even a song or two, but it was way too late and we didn''t even arrive until Thrice was ˝ way into their set. It was a terrible fucking day.

At this point, our perspective is that U-Haul did not properly inspect that trailer before leasing it out AND addressed the replacement in the most un-professional of ways. Feel free to call them at their 1-800 number and tell them that they basically suck. We will be back to Vegas – it's a guarantee.
PELICAN VINYL DISCOGRAPHY
04.12.08
Although there is great risk in helping Ebayers make money off of our hard work by posting something like this, we can't ignore he hard work of Mr. Joe Proffitt, who has assembled a full vinyl discography photo gallery for your perusal here.


If one of you out there wants to tackle the shirt version of this let us know. We've recently been debating how many shirts we've unleashed on the world and it might be somewhat staggering if they were all lined up.
Tour almost here
04.09.08
Hey folks,

We're leaving for tour in 48 hours. Just wanted to say goodbye. To clear up a little confusion that has been coming in regarding the tour - most nights we are playing first of three bands, so come out EARLY in order to catch us.

Also thought you might want to check out this Pelican interview hosted by corporate hosts Scion. That was peak creepiness of my moustache. Ah, I remember those days.

Okay, see some of you soonish.
In Store Performance - Omaha, NE 4/12
04.03.08
We will be doing an in-store performance at Homer's Music Orchard Plaza in Omaha, Nebraska on Saturday April 12th at 3pm.
more info can be found at www.homersmusic.com
Rock Gauntlet / Hydra Head Evening
03.31.08

Hear tracks from the newest Hydra Head releases from Torche, Cavity, Pyramids, and more. Giveaways and coupons for discounts on HHR releases at Reckless Records. Dont Miss Out On This. April 1st 9pm Sonotheque 1444 W. Chicago Ave Chicago, IL
Tour
02.11.08
Dates are now posted for the tour with Thrice and Circa Survive
Sirius Live video + Headbangers Blog
02.05.08

You can check out a complete live clip of the track "Sirius" live in England from the "After The Ceiling Cracked" dvd over here at MTV.com. Also check out the guest blog with Laurent. "After The Ceiling Cracked" is available in the webshop
Australasia + March Into The Sea vinyl represses
01.25.08



Hawthorne Street Records will be repressing the March Into The Sea vinyl ep . Preorders are being taken now HERE. the repress features standard artwork from the cd and comes in two colors, solid grey and transparent blue.
Also, Interloper Records have just issued the 4th repress of Australasia on vinyl. This press comes on grey/brown, is limited to 1000 copies and features silkscreened artwork that is different than the previous presses. Copies can be ordered HERE
After The Ceiling Cracked DVD + 3
01.08.08

CLICK HERE to pre-order

They say that the colors of the real world don't look really real until you see them on the video screen... but who knew these dudes were so fucking handsome? Still, when instrumental sensations Pelican attained maximum onstage transcendence at the Scala in Kings Cross, London, those in attendance weren't all that surprised. After all, these accomplished Chicagoans have been kicking ass and taking down the names on an international basis for years now. After the Ceiling Cracked features Pelican's already legendary London live set from December 20, 2005, interviews and live bonus material shot at various stops on the band's past US tours, a video for "Autumn Into Summer," and an extensive photo gallery. Also included is a 3" audio CD** containing two versions of the song "Pink Mammoth" (a major-key reworking of the Untitled EP track "Mammoth")—one of which features all the members of Seattle rock destroyers These Arms Are Snakes—and "End of Seasons," a Prefuse 73 remix medley of "Aurora Borealis" and the untitled track from The Fire In Our Throats Will Beckon The Thaw. DVD Content: Live from Kings Cross Scala, London, December 20, 2005:
March Into The Sea
Autumn Into Summer
Nightendday
Last Day Of Winter
Aurora Borealis
Sirius
Australasia
Live Footage Collection 2003-2006:
Sirius (interview w/ Larry and Laurent) Nightendday and City Of Echoes Live from Neumo's Crystal Ball, Seattle, WA 06/03/06
Pink Mammoth and extra footage Live from The Troubadour, Los Angeles, CA 05/29/06
Last Day Of Winter Live from Nanci Raygun, Richmond, VA 05/12/06
GW Live from Sabalas, Portland, OR 08/13/05
Mammoth, Drought, and Red Ran Amber Live from The Nyabinghi, Youngstown, OH 05/30/04
Forecast For Today and The Woods Live from The Nyabinghi, Youngstown, OH 10/11/03
Autumn Into Summer music video
Photo and art gallery:
Photos and posters from all eras of the band
3" CD Content:
Pink Mammoth
End Of Seasons
These Arms Are Pink Mammoths
For a limited time only you can order a limited-edition navy blue Pelican t-shirt and/or hoodie along with your "After the Ceiling Cracked" DVD + 3" CD. These shirts and hoodies will ONLY be available through Sunday, January 13th. After that: want this snazzy Pelican shirt or hoodie you will, but find them you will not!
After The Ceiling Cracked DVD trailers
01.03.08


After The Ceiling Cracked DVD - Available 01.22.08

Oh yeah, and please see this. We have nothing to do with it, but it is hilarious.
Feb/March tour
12.26.07
We will be doing a short run of dates in February/March down to the Langerado Festival in South Florida and back. all dates with the exception of the festival itself will feature Black Cobra and Unearthly Trance as support. Dates are posted.
the making of City Of Echoes
11.08.07
Hey folks,

Roadburn.com just posted a studio report on the making of "City of Echoes". Go here and click the link titled "Overview" in "The Zine" section on the far right to read it. They are sponsering our tour with High on Fire, so we're very pleased they cajoled us into writing that piece.

It's also now possible to listen to the new Tusk record online at theresistingdreamer.com.

Thanks!
Heavy Metal In Baghdad Benefit In Chicago
10.31.07
There will be a benefit night for the Iraqi metal band Acrassicauda from the documentary "Heavy Metal In Baghdad" at the Continental in Chicago on Wednesday, November 7th. 10pm - 4am. 21+

The guys from Acrassicauda are literally a band on the run. They've gone from Baghdad to Damascus where Vice got them out in the nick of time two weeks ago (see The New York Times article below on Syria kicking out all Iraqi refugees). Now they are in Istanbul and have very little time before they could face deportation back to Baghdad. The implications of this are frightening. They are homeless, gearless, and their money is running out fast. For more information go to www.heavymetalinbaghdad.com

DJ sets by Laurent of Pelican Mike of Russian Circles + Ben Fasman, playing rock, punk and lots of the best heavy metal you've ever heard, all night long. There will be drink specials, some raffles / giveaways and so on.

A documentary has been made on their story that just premiered at the Toronto Film Festival to much acclaim.

"The most powerful music film at TIFF" -ROLLINGSTONE.COM "Šone of a kind documentary"- HUFFINGTON POST.COM The New York Times article on Syria: LINK
NEW RECORDS, TOURS, IDEAS, ETC
10.22.07
Hello, people. We are actually off tour for once, so it's time to give you the low down on what's going on.

Firstly, thanks to everyone who made it out to our recent shows in Japan and Australia. Our expectations were far exceeded and fun was had by all. We promise to return as soon as we are able. A review of our Brisbane concert has made it online here. Apologies to the folks in Melbourne who missed out on the appropriate sounding bowed guitar intro to "Aurora Borealis" - sadly this schmuck stole my bow at the Sydney show. NOT cool. I know most of you know this, but for the sake of those who don't- please do not steal our gear. Again, despite that one kink the tour was awesome and fun. Thanks!

Secondly, we are gearing up for our seventh tour of the year, this time blazing a path across Europe with High on Fire. We're stoked for this one- we've played scattered shows with HOF throughout the years (including our first show ever, here in Chicago many years ago), but we've never managed to get our schedules to correspond enough to do a full tour together. This pairing is YEARS in the making and promises to be bangtastic as HOF have just issued their fourth spectacular full length "Death Is This Communion" on Relapse Records, and it is a rager. Our upcoming shows section has all the dates posted. Many familiar places, but we'll also be hitting Greece, Poland, Sweden, and Norway for the first time- we're very excited to finally get out there and play for you all. As always, if we're not hitting your city this time, please realize that we'll be back and we'll likely roll through next time.

The tour runs from November 14th through December 18th. Falling between those days are two important release dates for us:

The first is the long awaited, often-delayed, but now back on track "After the Ceiling Cracked" DVD + 3" CD on December 4th. We are doing everything in our power to try and get copies of this for the tour as soon as they are available. We're hoping it's possible to have it for at least the last two weeks of the tour, but we can't make any promises. For those who do not know, the DVD's centerpiece is a full concert in London from December of 2005 documented by four camerapeople with Jesu mastermind Justin Broadrick manning the console for both the live and recorded sound mix. The DVD is chock full of photos and songs from several other shows spanning our career. The 3" CD is the digital version of the tunes from our recently released "Pink Mammoth" 10" EP with an additional collaborative version of the title track featuring contributions from our boys in These Arms Are Snakes. The whole thing is rounded out by yet another gorgeous layout courtesy of Aaron Turner.

Preceding that release will be the long-awaited, often-delayed third full length from our proto-prog-grind alter-ego Tusk (except for Bryan, who is not in Tusk and has no alter-ego) "The Resisting Dreamer" on November 20th. Two and a half years in the making, "The Resisting Dreamer" is a single 37 minute song divided into four tracks across two sides of vinyl or one side of shiny plastic (depending on your purchasing preference). Original vocalist Jody Minnoch was not available to contribute, but the record benefits from the disparate sounds and intensely talented contributions of Evan Patterson of Young Widows and Toby Driver of Kayo Dot. The two vocalists contributed their own lyrics in tandem and together weave a tale of regret, resentment, and (classic Tusk lyrical theme) descent in madness as the inner worlds of despair and guilt ravage the soul of the album's protagonist, who caves into their nightmarish inner world to ultimately taste "The Lewdness and Frenzy of Surrender." We have reason to believe that copies of this will be available to us by the start of the tour, so we should hopefully have these the whole way.

One final set of notes regarding affiliated bands and you will all be off the hook.

Those of you who live in Chicago and prefer your music burly, brutal, and live ought consider swinging by The Empty Bottle tonight for a free show with Lair of the Minotaur, Wolves in the Throne Room, and Indian. Larry's not currently drumming with LOTM, but if you dig their brand of crushing death-doom you cannot beat a free show with $1.50 PBR. But it's also crucial as Wolves in the Throne Room are one of the greatest bands at the forefront of the New Wave of US Black Metal - their new record "Two Hunters" (Southern Lord) comes highly recommended from us at Pelican HQ. You have nothing to lose and everything to gain by coming to this show. The show's at 8:30pm. See you there.

Also this week are two shows from my (trevor) post-experimental, sludge-noise-pop band Teith. The first will be Sunday October 28th at The Empty Bottle. We'll be playing with Gigan, who feature ex-members of Hate Eternal, vicious solo-cellist Helen Money, and Anni Rossi. The show is either $7 or $8 (I've seen listings with both) and doors are at 8:30pm. We'll also be playing "Devil's Night" at a new club called Reggie's Music Joint on October 30th. Also appearing will be Calerna and Blood of the Tyrant. Expect Halloween shindigs and insanity. And bone crushing volume. The show starts at 9pm and is FREE FREE FREE. Teith is also proud to announce that we'll be letting our handmade CD-R edition of our debut EP "Oak City" go out of print as our friends at Thirty Ghosts Records of Austin, TX will be issuing and official factory-run version. Not really sure exactly when this will be out, but our hope is for early 2008.

Whew, I think that's all I have to report. There may be more, but I'm truly at a loss. We likely won't post again until after the dust settles from the next tour, so everyone have happy, safe holidays. PEACE!
Euro And UK Tour with High On Fire
09.28.07
tour dates have been posted for our run through Europe and the United Kingdom in November and December with our friends in High On Fire. check em in the dates section.


Los Angeles VICE show
09.07.07
Good afternoon. Sorry about the mass nature of this bulletin. We're playing a VICE show in Los Angeles, with Saviours (awesome band on Kemado) next week -- September 12. VICE is putting on the show with Scion, and attendance is free. Limited, but free. The first 75 people to rsvp at www.scion.com/metalshow will get two tickets. Confirmations will be e-mailed on Tuesday, September 11, along with directions to the event. So if you're in Los Angeles, and you'd like to see us play ... here's a chance. :) Take care of yourselves, and hope to see you there. -- Pelican
Rock For Kids Music Mixer - 09/06/07 Chicago
09.04.07
This Thursday is the Fifth Annual Rock For Kids Music Mixer at Smart Bar in Chicago. The Music Mixer is an auction featuring one-of-a-kind mix CDs made by members of the Chicago music community. Larry and Laurent contributed dope mix tapes to this great cause this year. Trevor and Laurent did last year, too, so it's kind of becoming a tradition at this point.

When: September 6th from 6 PM - 9 PM
Where: Smart Bar - 3730 N Clark St. Chicago, IL
What: Bid on one-of-a-kind mix CDs from Chicago's music community
Cost: $5 Suggested Donation

Rock For Kids is a non-profit organization that provides support, assistance and inspiration to children that are homeless or in need. Committed to the dignity of children, Rock For Kids works with families and organizations to positively impact and celebrate young lives.

more info:
www.rockforkids.org
www.myspace.com/rockforkids
tour video and photos
08.19.07
One week of tour left, thanks to those who have come out to the shows so far.
Japan and Australia shows are posted. check out these videos and photos from the road.
New York City 07.24.07

photos:
more HERE - from San Francisco by Taija Horne



more HERE - from Albuquerque by Graham Ludewig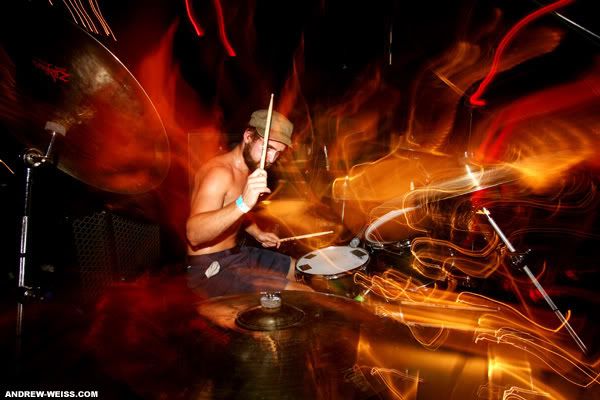 more HERE - from Tempe by Andrew Weiss. Andrew is a long time friend of the band and a very talented photographer and we thank him for this intimate portrait of the band.
tour update
08.07.07
Full fledged tour brain has set in, a curious and unpleasant ailment that causes short term memory loss, babbling incoherance, and a complete inability to laugh at any but the least tasteful jokes. I therefore apologize, in advance, for the text that follows, which may be incomprehensible and littered with errors.

Despite said mental conditions the tour has been going swimmingly. Thanks to all who have made it out to the shows and to the bands we've sadly parted ways with (Earth, Priestbird, Fatal Flying Guilloteens, and Your Black Star). We're very sorry to those of you who wanted to pick up City of Echoes or Pink Mammoth on vinyl, those of you who wanted pins and stickers, and those of you who wanted limited edition Golden Girls shirts. Sadly all these things were beyond our control.

The good news (for those of you living on the upcoming tour path) is that we're allegedly picking up 200 copies of the City of Echoes LP when we hit LA on August 10th. An online preorder at Hydraheadshop.com will follow shortly after. So some of you can pick the record up from us in person, some by mail, and others can seek it out next month in stores. As usual, the packaging will be awesome and there will several different colors of vinyl.

Also wanted to note that an old chum of the band has launched a site of his concert photogrpahy, featuring a large section of Pelican photos. Check it out here.

See you all soon!
Back On The Road!
07.16.07
Ladies and Gentlemen of the blog-reading public, thank you for sharing your time with us. Many thanks to the many folks who came out and supported us on our short venture overseas this month. The festivals and shows we played were a blast and good times seemed to be had by all. Special thanks to the man known as Frieder for sharing a backcatalog of stories that would have Graham Greene and/or Hunter S. Thompson headscratching for days (and introducing us in inenviable quantities to his specialty driving move the "Snack Swerve"). We will be back later this year fo' sho'.

ONLY DAYS REMAIN before we head back on the road, this time bringing the sound all across this lonesome continent of ours North America. Those of you in the Midwest, Northeast, East Coast, Deep South, West Coast, Pacific Northwest, portions of Canadia, and Texas will have the opportunity to see how we jam these new tunes in the live context. Expectations are that there will be far more sweat, headbanging, and gut trembling volume than when you listen to the record at home. Dates posted now in our upcoming shows/tour dates/whatever that section is called.

At some point on the road we are going to be joined by a few boxes of NEW VINYL. This shit was, of course, meant to be ready for the start of the tour. But pressing plants, finicky as they are, have decided to diss our fans once again and make those of you along the first stretch of the tour reliant on mailorder and record shops. Anyhow, we presume to have vinyl editions of the City of Echoes LP and Pink Mammoth 10" EP at all shows from Los Angeles forward. When the time comes that they are near ready to ship they will be available for purchase at Hydraheadshop.com along with limited shirts, vinyl slipmats, and tonsil clippers in a variety of different preorder package options. Stay tuned.

Being on tour will mean only limited mail answerage. Please be patient with us.

Also now announced are tour dates in Japan. Please see our tour dates section for more details. Dates soon to be announced for Australia, as well.

That's all for now. Hope to see you all soon.

PEACE!
Halford hearts Pelican?!
07.13.07
For those of you lucky enough to never have seen Laurent naked (which considering he's in every one of the Hydra Head ads, naked, means there only a few of you), you probably don't realize that he pretty much worships Judas Priest...so much so that he's got the bird (we're sure he thinks its a pelican) from Screaming for Vengeance tattoed on his right boy breast. Needless to say, when we heard Halford dropped our name in a recent interview with Ralph Sutton from Tour Bus Radio, Laurent and the rest of the Pelican boys nearly had a heart attack. Well, Laurent had the heart attack and the other guys just thought it was incredibly cool. Rob, send us your address and we'll get a sweet package of Pelican goodies over to you...
City Of Echoes OUT NOW
06.06.07
Yes, our new album City Of Echoes had its US release date yesterday. Almost completely without fanfare, the record quietly edged its way into shelves at mom n' pop stores, power hungry chain conglomerates, and digitally ethereal webstores. Let it be known that the version that leaked on the internet upwards of four months ago (and has been circulating since) was an unmastered version of the record, so if you want the real deal you're encouraged to buy the slickly produced, meters-in-the-red version now.

Thanks to everyone who came out and made our shows at Primavera Sound festival, Porto, and Lisbon such huge succeses. We had a blast despite a few technical difficulties here and there that some of you bore witness to. Special thanks to our friends Tule and Jodie Cox, without whom the trip would have been a veritable impossibility.

As you can see from our funny MySpace photo thingy, we managed to get our faces on the cover of Decibel Magazine. Bryan told me that Decibel was sold out at the Borders by his place, so thank you if any of you are responsible. Additionally, DEMAND these bloodsucking chains to keep the fucking thing in stock. The more they sell, the better off the independent music magazine scene is, the more people read about good music, the better off music fans and bands are, etc. So there.

At the end of the month we'll be crossing the pond for our third trip to Europe this year.
Check out the dates on the dates page.

In addition, the first batch of dates for the US tour have been posted.
Hope to see some of you out at the shows!

Lastly, we wanted to bring a cool project we heard about to your attention:
Pointing imaginary guns and roughing up "Iraqi civilians", a group of antiwar veterans brought the realities of the Iraq debacle to Manhattan, in a Memorial Day protest that briefly turned the streets of the city into a combat zone. In "Operation First Casualty," a half-dozen members of Iraq Veterans Against the War employed the tactics of street theater to stage mini-dramas in Times Square, Union Square and the World Trade Center site, simulating sniper fire and staging mock arrests of fellow protesters who portrayed Iraqis. The group plans to take Operation First Casualty to the streets of Chicago June 17.
And the link: www.thenation.com/doc/20070618/hannah_taylor
City Of Echoes Preorder
05.17.07
Starting today you can pre-order "City of Echoes" and for a limited time have the option of buying one of several limited edition garments. As usual these pieces are being made only for this pre-order and WILL NOT be reprinted.

CLICK HERE to preorder.

The CD is a 6 panel digi-pack with black gloss printing. Listen to the entire record at www.cityofechoes.com . Oh...This record has cock rock riffs, therefore we had to make the underwear. First (only?) ever underoos for a Hydra Head band.

UPDATE: International Shipping is now Fixed & Functional so those who tried to order previously and had issues or haven't had a chance to yet and are overseas, you can now order away to your hearts desires.

For those of you who do not have the patience for waiting out the pre-order shipment, but DO have the patience and money for International mailorder and a penchant for collecting rare goodies, "City of Echoes" is currently available in a CD+DVD version in Japan from our friends at Daymare Recordings. Simply go to www.inoxia-rec.com click on the "English" option under "Mail Order List" on the left, then click the "Daymare Recordings" link in the list of labels that pops up. The Japanese version contains a live 6-song DVD from a recent performance in LA that we have no plans to release anywhere else for the time being.
these arms are pelican
04.25.07
At our recent show in London on the European tour, we played a special version of Mammoth (Pink Mammoth) with everyone from TAAS, our touring partners, and our friend and booking agent Jodie Cox. So that's nine people on stage! You can witness this for yourself HERE and HERE.

The actual recorded studio version of this song will surface on vinyl later this summer and on the 3" CD that will accompany the delayed DVD "After the Ceiling Cracked" - now out this fall.
SXSW w/ The Melvins/Boris
02.26.07
For those of you who will be down in Austin in a few weeks for South By Southwest, in addition to the Hydrahead Showcase and InSound Party that we will be playing, We're also playing the Scion Showcase with The Melvins, Boris and Panthers on March 15th at Stubbs BBQ.

This is an Invite Only event which you need to sign up to get an invite to, to gain entry. You can do so here... www.scion.com/austin the fine print says Early arrival is suggested as space is limited & Entry is NOT guaranteed. Please DO NOT send requests to get in to this event to us through our Myspace as we cant help you in that way.
split with Playing Enemy
02.26.07
a while back we put out a seven inch with Playing Enemy on Hawthorne Street Records, and wanted to let everyone know that this thing is still in print. we've seen these things poppin up on Ebay, with people paying more than they need to for them since you can still get em HERE for $5ppd.
Winter Hibernation Is Over
02.20.07
If you hadnt heard already, the new full length, City of Echoes, will be hitting the streets on May 22nd. Check here for some more info on that. There's a very strong chance that LP and CD will come out at the same time. You can check out the title track here now, and we hope to post a larger version of the cover art soon.

As has become customary at this point, we'll be hitting the road in a big way. Confirmed live dates have been posted for the months of March and April.

In March we kick off with a benefit for our really good friends in Sweet Cobra. It's on Sunday March 4th, at Chicago's Subteranean, with Sweet Cobra, Minsk and special guests. Consider coming to see a sweet bill and helping our friends fight the good fight with the corporate leeches at insurance companies.

We will then be heading down to Austin, Texas for the South By Southwest Festival to take part in the Hydra Head Records Showcase along with Jesu, Big Business, Daughters, Oxbow and Stephen Brodsky's Octave Museum. In addition, we've booked some dates on our way down there and on our way back home. These shows will include Russian Circles and Young Widows with Daughters hopping on for a few of them right before SXSW. Insound is sponsoring one show, and their site has a good summary of all our appearances and all the indie shows to see here.

In April we are heading over to Europe to play some festivals, including the Roadburn Festival, which according to their website is now sold out. also we have a short UK tour with our friends in These Arms Are Snakes. this tour is sponsored by the great people at ROCK SOUND magazine and Drowned In Sound.

We will also be taking part in the Primevera Sound Festival in Barcelona, Spain at the end of May. more info on this can be found here. Before this festival, we have two shows in Portugal. Details will be on this site, of course.

The rest of the summer we'll be on the road in some capacity, whether back in Europe for festivals, tearing up the U.S./Canada, or heading over to Japan, Australia, and New Zealand. So stay tuned.
Day #365
12.31.06
Hope everyone had a great year. Just a reminder if you're looking for somewhere to spend all that sweet cash you accumulated over the holiday season, there is plenty of Pelican gear and music to found over at the HydraHeadShop.

Up for sale are a number of different shirt and hoodie designs in both guys and girls fits, both full lengths on cd and lp, both eps on cd. as well as pins and limited posters from the Mono tour last summer. Just click the link below to check all this stuff out for yourself. have a great 2007.

link to www.hydraheadshop.com
winter update
12.08.06
Today's Temperature in Chicago: Eight Below with Windchill Factor "It's the end of a fucked up year, there's another one coming." - Embrace

And I realize that there is some danger of that being the only viable conversation exchanged with the family during the upcoming holiday vacation/break/disaster, so why not pepper a few of your interactions with a variety of tidbits about Pelican? This news is designed with this very purpose in mind. Let us begin:

1) NEW ALBUM IN 2007! Five days from now we will ensconce ourselves in Chicago's Electrical Audio Studios for 11 days of intense concentration and furious rocking. The album will be engineered by none other than Andrew Schneider, the villain behind this years' prime offender Hell Songs by the Daughters, last years' jaw dropper Perfect Pitch Black by Cave In, and the previous years' Summer bar fight soundtrack Subject to Change Without Notice by fellow Midwesterners Keelhaul. In other words, Andrew's credentials are apparently unsullied (yet) and the album is predicted to have a throttling impact worthy of the ragers we've constructed for it.

People who made it out to see us on our West Coast/Canadian jaunt with Daughters had the opportunity to preview four of the new tunes, "City of Echoes", "Bliss in Concrete", "Dead Between the Walls", and "Spaceship Broken - Parts Needed". The good news is that these songs only began to scratch the surface - there's a whole six more songs in the reserves that hadn't yet made it to the live performance stage. On a whole the songs are more concise and more aggressive than our prior work. Relentless repetition has taken a backseat to intensity and a desire to pack as many riffs as possible into each tune.

The album is currently slated for a May release on Hydrahead Records. People can, of course, expect us to tour before and after that time.

2) SO MANY LIVE PERFORMANCES - Those of you who live in or around Chicago will have two opportunities to see us before the years' end. On December 22nd at 9pm we will rock Subterranean with Lichens (ex-90 Day Men, on Kranky Records) and Suicide Note. The next day we will work our way North to the Beat Kitchen for a 7:30pm show with Young Widows (ex-Breather Resist, Jade Tree Records) and Suicide Note. The capacity at both of these clubs is smaller than the last several Chicago shows we've played, so buying tickets in advance (both shows are available at www.ticketweb.com) or showing up early is advised as the shows may sell out.

There will then be a short break while we mix our record and gather our druthers for a year spent touring. March will see us traveling to Austin, Texas for the annual South By Southwest Music Festival (dates to and from the event will be posted in our upcoming shows section when they are confirmed). In April we'll be crossing the pond to play Holland's Roadburn Festival (along with the Melvins, Neurosis, Blue Cheer, OM, Red Sparowes, Growing, Thrones, and several others; see www.roadburn.com for more details). We'll be doing a few weeks of dates preceding the fest, including dates in Germany, Belgium, Czech Republic, France, and the UK. Again, dates will be posted as soon as they are available.

There will be other tours in 2007, including full fledged tours of the US, UK, Europe, and potentially Japan. We'll let you know when things are confirmed. I promise.

3) AFTER THE CEILING CRACKED DVD - We announced this a while back, but if you don't remember (or never heard) we've been working on this DVD for the past year. It's centerpiece is a performance captured in London in December of 2005 with live and DVD audio mix by none other than Justin Broadrick (Jesu, Godflesh, Ice, Techno Animal, Final, etc.). The DVD also includes excerpts of several archived live performances from throughout the years as well as a photo gallery that documents much of our history as a band. It was slated for a January release, but has been pushed back due to numerous technical difficulties. News on the status of this project should be forthcoming shortly.

4) WHAT ABOUT PELICAN MERCH FOR THE HOLIDAYS? - I know, I know... you want to share the love this holiday season. A new shirt design by our close buddies at Delicious Design League was just posted at the Hydrahead Webstore (www.hydraheadshop.com). There you can also find copies of our CDs, the brand new-ish double LP version of The Fire in Our Throats Will Beckon the Thaw, posters from recent tours, and most anything else you might imagine. If none of this appeals to you we'd like to take the opportunity to suggest the DVD release of a film we lent a song to, The Run Up, a documentary detailing the lives and work of many artists working in the field of fine, graffiti, and street art. More information about this film can be found here.

5) THAT PART OF THE NEWSLETTER WHERE WE WRAP THINGS UP BY DISCUSSING OTHER BANDS WE ARE AFFILIATED WITH - I'd like to start by thanking everyone who came out to the Chord show in Brooklyn and extend gratitude to Growing, the Austerity Program, and the the Water Street Lounge for making the show possible. It was 14 months since the last time Chord had met (and 28 months since our last show), so it's hard to say precisely when the next time we'll perform/record/etc. will be. Chances are that mention will be made of it on our "website" at www.atomicmouserecordings.com/chord. I think Phil posted a "ringdrone" up there that people are intended to put on the cell phones. Uh, weird.

People have been writing to ask why Larry wasn't present at recent Lair of the Minotaur shows. He's not currently playing with the band since he lives in California. But those guys definitely have plans to play together again. There was a lot of time conflicts between Pelican and LOTM's touring schedules. LOTM had opportunities and needed to tour more so they needed a drummer that is more available. Larry wishes them the absolute best.

Trevor's band Teith just released a CD-R EP via migration media (www.migrationmedia.com). News about the group and MP3's can be found at their MySpace site: www.myspace.com/teith.

6) THAT'S ALL FOLKS - But seriously, it is. I can't think of anything else that we need to share with you. Hope to see you at our upcoming shows and have safe and happy holidays!
The Run Up
12.02.06
Just wanted to let you know that Pelican have donated a track to the dvd release "The Run Up". it's a double dvd set about some of todays modern artists in the fields of graffiti, photography, tattoo, design, comics, etc. the dvd contains interviews and music. We were asked to donate a song for the film and provided the acoustic song from "fire..." lp. we're glad we had the opportunity to be part of this great project.

here's some links and info:
film website
check out a short trailer here
to order a copy
Chicago shows
11.20.06
We have two more special shows booked before the end of the year in Chicago. The show on the 22nd will be a 21 and over show at Subterranean with Lichens and Suicide Note. the show on the 23rd will be all ages at Beat Kitchen with Young Widows and Suicide Note. We intend to play most of the new songs from the new album at these.
for your viewing pleasure
10.26.06
yet another video to check out, this one features the track 'GW' from Australasia as its soundtrack. the images in the video are a collage of footage from 1960 about Joseph Kittinger, a man who in that year took a giant helium balloon up to 102,800 feet and then jumped, setting records for highest ascent, highest jump, longest freefall and fastest fall. The video was put together by Temmi Okkerse, who is a part of the Smallcities art collective in Holland.

CLICK HERE to check out the video.
Red Cross Benefit Show featuring CHORD
10.20.06
Red Cross Benefit show at Water Street Restaurant and Lounge in Brooklyn, NYC on November 11th. The lineup is CHORD (members of Pelican), The Austerity Program, and Growing. This is a benefit for a great cause. For more info head to www.myspace.com/waterstreetlounge
something cool to check out
10.11.06
Pelican contributed "Sirius" to Xvivo's demo reel. They specialize in providing amazing animation for medical schools across the country. As a band, this was a cool choice because we feel that medical animation is likely to reduce the use of animals in labs for testing, so it was neat to contribute a song to a company that likely helps that goal. to view the video click on the link that says animation towards the bottom of their site and the video will play.
Ottawa venue change
10.10.06
the venue for the 10/12 Ottawa show has changed from Babylon to Mavericks. As well the doors / show times have changed from 5pm doors / 5:30 pm show to the far more humane 7pm doors / 7:30 pm show with Pelican hitting the stage approx 10:15 pm. Please let everyone know!!!
Roadburn Festival 2007
09.25.06
We are proud announce that we will be apart of the Roadburn Festival in Holland next April. bands taking part in this amazing festival are Neurosis, Om, Thrones, Growing and a bunch more. further details can be found HERE. We'll likely be doing a UK tour and a few other European dates around that time. Plans are to then come back later in the year, once the record is out, for a more comprehensive European tour.
Fall Touring about to begin
09.12.06
Touring for the fall will begin in under a week now, the tour is being sponsored by the good people over at InSound.com more on that can be found here. Joining us on these dates are none other than fellow hydraheaders, Daughters and the amazing metal band Nachtmystium, with Russian Circles, Sweet Cobra and Saviours showing up for a few dates. This will be our first extensive tour of Canada as part of the Exclaim! Aggressive Tendencies Tour with Daughters and KEN MODE. more on that can be found here. We'll be playing a bunch of new songs on this one, and likely recording the new full length soon after the tour.
The Fire In Our Throats 2xLP Preorder
09.05.06
The Fire In Our Throats Will Beckon The Thaw 2xLP is finally up over at www.hydraheadshop.com. Its an old-school style heavyweight gatefold jacket printed on reflective metallic stock. Double vinyl LP on 5 colors plus black all on 180 gram vinyl with full color labels. Each record is in a heavyweight 4 color inner-sleeve. These are limit one per person.
Live In Seattle Video
08.19.06
Super proud to share this one with you. It's a really nice edit of an interview and some live material courtesy of the Live Eye TV crew. Check it out here: www.liveeyetv.org. We'd like to thank them for putting together the clip. I'll try and post more stuff like this when it comes my way.

For those who are interested, there's also a ton of our stuff at YouTube. A search for Pelican yields interesting results.
Fall Touring and Release Schedule
08.19.06
Pelican is going on tour in late September and most of October through the South, West Coast, and Canada. The dates are in the main part of this site. But here's a CMJ.com write up that sums our fall plans up well:

This fall, Pelican will unveil new material from their third, as-yet-untitled release on a North American tour. Chicagos most versatile prog-metal instrumentalists will play with Daughters on the second leg of their fall Hell Songs trek, while further supporting 2005s acclaimed Fire in Our Throats Will Beckon The Thaw. And in addition to the new LP, Pelican will descend in November with the weighty simultaneous release of a live DVD/3-inch CD/2XLP/12-inch.

With all these ambitious projects ahead, Pelican is bringing in some high-profile fans to assist. A Prefuse 73 remix will be released on the 3-inch CD and the 12-inch, while the live DVD features a headlining show in London that was mixed by Justin Broadrick of Jesu. The 2XLP contains the full audio of the same show. According to Pelican's label, Hydra Head, the band is likely to begin recording after the tour.

Fall tour dates are up in the dates section. We're routing home from the east coast back to Chicago, so there'll be some dates there, too. More to come soon.

The Canadian portion of the tour is sponsored by a rad Canadian weekly. The tour up there is called Exclaim! Aggressive Tendencies Tour.

In additional news, have you seen the Pelican Nebula Ionization Front? Check it out here. Thanks Chiba for the link to this.
Seeking Live Footage -- especially recent MONO tour
08.04.06
We're putting the finishing touches on a DVD that should be out in the late Fall. The centerpiece of the release will be a show we played at the London Scala back in December, but it will also contain some interviews and various songs culled from live sets of the past. In digging through our video archive we realized that we have very little footage from our tour with Mono which, hands down, were consistantly our favorite performances. If anyone out there has video from the recent tour - especially the Chicago show - please get in touch.

Now that I'm thinking of other really good shows if anyone has video of our show in Groningen, Netherlands from our tour with Cave In get in touch about that. Hell, if you've got footage of ANY show that you feel is pretty decent, get in touch. We've been fortunate that people have given us footage at shows and also sent us things, but I'm sure there are things out there that we don't have.
Pelican Tour Posters
08.04.06
Up now over at hydraheadshop.com are tour posters from our recent co-headlining tour of the states with Mono. Our good friends Billy Baumann and Jason Teegarden-Downs are responsible for these designs (as well as the poster printing). These two designers have done several amazing posters for us before, and they are the main players behind The Delicious Design League. Check them out at www.deliciousdesignleague.com as well as here.

The posters were prepared for our co-headlining tour with MONO last May and June. There are eight different colors, each representing a different element. Because we had a small amount leftover, and this tour was in the U.S. and Canada only, we wanted to make them available worldwide. As for the shirt and hoodie designs, they're adapted from the poster art, and Delicious' first forray into designing garments for Pelican. We hope you like them as much as we do.
Fall Touring
07.25.06
Pelican is going on tour in late September and most of October through the south, West Coast, and Canada. Plenty more dates announced soon. Joining us on these dates is none other than Daughters and the amazing metal band Nachtmystium. We'll be playing a bunch of new songs on this one, as we're likely recording our new full length soon after the tour.
the latest...
07.15.06
Just a little tidbit of news: The FIOT vinyl test presses are on their way to us now, believe it or not, so we WILL have the vinyl with us for fall touring. Touring will resume then with Daughters out west and into Canada again. You can then look forward to a brand new pimped-out DVD in early November. Other than these exciting bits of news, we are working dilligently on our new record. We're five songs in. No details to share yet, other than it sounds nothing like any particular release we've done, but it's still us. Think of it as the difference between a V-neck sweater and a sleeveless Slayer shirt. We'll share more real soon!
June Update
06.29.06
Pelican hit the road from May 7th to June 20th. That makes it the longest tour we've ever been on; our hair is longer and we're so pumped from fist fighting with riffs every night that we're now writing a speed metal record. It was the 6th tour to support our recent full length "The Fire in our Throats Will Beckon the Thaw." Don't have it yet? You know where to get it. From Lansing, MI, all the way down the East Coast and across the states and Canada, We had their best tour ever, partnering up with MONO, The Life and Times, Mare, Tarentel, Eluvium and Boston's Disappearer.

A collective thanks to our tour mates, all who supported the tour by writing a story, coming to the show, giving a place to crash, sparing bud, directing us to the nearest record store, and providing whiskey when we needed it most (i.e. every night). Plans now are to write the next album. FIOT surfaces on vinyl this summer, too!

Finally. Touring will resume in the fall with Daughters out west and into Canada again. You can then look forward to a brand new pimped-out DVD.
Video Interview and more...
06.18.06
check out a video interview done during the Taste of Chaos tour HERE

also worth checking out are the arcticles HERE and HERE
Australasia LP Repress Now Available
06.12.06



Australasia LP repress is available to order through the Interloper Records Website This repress features artwork with a new color scheme and Green and Purple vinyl.

also check out this feature article from rom VIEW Magazine in Canada
San Diego In Store Cancelled
05.27.06
Kids, our drums pedals snapped at 2 a.m. yesterday, so we gotta fix those today before the proper San Diego show. I had to call M-Theory to cancel our appearance. I am so sorry! --Laurent
Invaders Compilation
05.06.06
Check out the Pelican song "Ran Amber" on the new Invaders Compilation out and available everywhere on Kemado Records. the song was previously only available on the split vinyl release with Mono. Other great bands on this comp include The Sword, Big Business, Black Mountain and more. for more info click here
Update
04.21.06
Hey folks,

Been meaning to post a new update to let you all know what's up since getting back from tour two weeks ago, but life gets pretty hectic when it only happens in small blocks between tours. Anyway, I'm here to set the record straight as quickly and clearly as possible.

Speaking of time off between tours - Larry didn't hardly have any! As I stated a little bit ago Lair of the Minotaur are currently on tour and need your support. I went out to their Washington D.C. date and they were phenomenal. Anyone missing out on this metal behemoth are out of their minds or simply don't enjoy banging their head as much as the next guy/girl/etc.

I should also state that I dropped the ball on notifying everyone about the release of the long awaited vinyl version of our "March Into the Sea" EP. There was a nifty preorder internet package available at the HydraHead Online Store that ought to have been mentioned here ahead of time (follow the link now and sign up for their newletter - it's the best way to find out about these things in advance). Honestly, the first I heard about it was 24 hours after it started, but I apologize to you record collectors all the same. Limited quantites of the record will be available from HydraHead, Aquarius Records, Conspiracy Records, and from us on tour while supplies last.

That's my cue to discuss our upcoming tour with Mono (whose stunning new record "You Are There" is now available from Temporary Residence). We are headed out for a whopping six weeks across the United States and a few select Canadian cities - all dates can be found in our Upcoming Shows section. We will be joined, at various points, by our friends Russian Circles, The Life and Times, and Tarentel. We're hitting many cities we haven't been to before; the tradeoff being that we're missing some that we have been to before. We apologize. It kills us, but we can't sandwich every city into every tour - be patient, we WILL be back.

There's gonna be plenty of insane merch on the ride with us - including a limited edition screen printed tour poster by our favorite Chicago designers Delicious Design and the aforementioned "March Into the Sea" 12" vinyl. A vinyl repress is also in the works for our first album "Australasia" from the fine folks over at Interloper Records. They'll also be bringing Tusk's first album "Get Ready" into the vinyl realm as soon as test presses are approved. No word on exactly when these will be finished, but there's a high likelihood that they will join us at some point during the tour and be made available for immediate consumption.

Possibly the biggest news is that the gears are finally turning on the 2LP version of "The Fire In Our Throats Will Beckon the Thaw". Artwork is approved and we are patiently twiddling our thumbs awaiting test presses. I don't want to get anyone's hopes up, but there is a slim chance that we may get copies of this at some point along the way. Like I said, the chance is slim.

Other than that it's the same old story. We've been working on new material and took a break from our last tour to record a totally different version of "Mammoth" from our first EP that we'll be mixing soon (hopefully this'll turn into a 12" single or something of the sort). Trevor's ambient/experimental project Histoire will be issuing its first major release "Architecture" through Germany's Viva Hate Records in July and/or August. As well, his "electronic" band Teith have just posted a bunch of new demos on their MySpace site and will have a remix featured on a new single by Austin, Texas' My Education, alongside Red Sparowes, Dalek, and Kinski; to be released via Thirty Ghosts Records in June.

Whew! Think that's all for now. Until next time...
SUNN Model T -- Got one to spare?
04.20.06
Gosh, I hate doing this ... passing on my gear concerns to fans, but I'm just desperately seeking another SUNN Model T, so I can have two to record and tour with. I am looking for a first or second issue, but not the recent fender reissue of the Model T. If you have one you'd care to part with, or know someone who does -- I would make a very generous offer (I think).

Please email me directly if you can help: laurent@hydrahead.com. In the long run, it means I will write better songs, play fierce, spit fire, do great kicks on stage, and all around impress all of you Pelican fans 10,000 times more.
Update
04.17.06
We are home from the Taste of Chaos. It turned out much better than we could have possibly anticipated. Thank you so much for everyone who came out and supported. Thank you, too, to all the people who threw projectiles and curses our way - more fuel for the fire, my friends and foes.

The Lair of the Minotaur tour is happening RIGHT NOW! See their myspace site for dates and cities.

As many of you know we'll be hitting the road again in a few weeks with Mono. A lot of dates ahead of us! I hope we are hitting a town that you live in or can easily travel to. We definitely get bummed out when people can't see us.
March Into The Sea vinyl
04.07.06
the March Into the Sea vinyl is available now in one of 7 different limited edition bundles now over at hydrahead shop.

"This was basically a labor of true love. March Into the Sea is one of our favorites songs. This 12 version was mastered to perfection by John Golden, so its different than the CD in that aspect. Everything was done to up the value of the analog version, both in audio and aesthetic. The covers were hand screened, and the different colors chosen represent the palette of color well. They sound great and look great, esp. the vellum version."
more Mono
03.25.06
more dates with Mono have been added
Mono Tour
03.24.06
the first batch of confirmed shows for the upcoming tour with Mono are posted in the dates section. there are MANY more to be confirmed. The Life and Times and Tarentel will be on select dates of the tour.
Update
03.16.06
We are home from the five-week European adventure with Cave In. We had an amazing time, and it is thus far being remembered as our favorite tour! We are grateful to all those who organized great shows, fed us, hung out, watched and called out song titles, and we made a lot of new friends. Thanks to all of you. We hope to return in September.

After a short week of rest, we'll be on the road again for Taste of Chaos. The dates are on this site. Then we take a month off and hit the road again for our US excursion with MONO. A lot of dates ahead of us! I hope we are hitting a town that you live in or can easily travel to. We definitely get bummed out when people can't see us.

Please check out the myspace site for reviews, photos, and what is happening with Pelican and all our other projects: LOTM, TUSK, TEITH, and HISTORIE.
Lair Of The Minotaur
03.15.06
Larry's other band, the formidable Lair of the Minotaur, have a lot going on. The new record is out on Southern Lord (www.southernlord.com) on April 4, and there's tour dates to look forward to. Not all are confirmed, so the best bet is to check their site (here) for updates. Hail! 666
tour journal
03.06.06
some photos from the euro tour with cave in can be found in the tour photo journal here.
Insane TUSK Conest
02.19.06
Please, check this out. We think it's the best contest EVER. If you're not entertained by this, then you're dead: Interpunk
Tusk Get Ready re-issue Info
01.10.06
For those of you curious about the elusive first Tusk album here is a tidbit of good news from the HeWhoCorrupts Inc. (see also www.hewhocorruptsinc.com and HeWhoCorupprupts Inc myspace) website. And I quote:

Finally, the news you've all been waiting for!!! The TUSK "GET READY" CD re-issue will be up for pre-order in early JANUARY!! ! Make sure to check out the site TUESDAY, JANUARY 10TH for a special pre-order deal that includes a TUSK T-SHIRT and POSTER!!! As if we haven't reminded you enough, this re-issue is essential for even those who own the original "GET READY" CD. The re-issue includes the following extras: all original tracks completely re-mixed and re-mastered, six unreleased live radio tracks, new artwork courtesy of Aaron Turner (HYDRAHEAD | ISIS), and a new enhanced section featuring an interview, live radio performance, and music video. May we kindly remind new comers, before there was PELICAN, there was the mighty TUSK!!!!
Taste Of Chaos
01.10.06
Taste Of Chaos tour info is now up in dates section.
for more info check out taste of chaos website
European Tour With Cave In
12.29.05
tour info is now listed in the dates section.
shirts for a cure
12.22.05
there is an exclusive Pelican t-shirt over at Shirts For A Cure. proceeds goto a great cause so pick one up here.

The Syrentha J. Savio Endowment (SSE) was established by punk rock photographer Mark Beemer in 2002. SSE provides financial assistance to underprivileged women who cannot afford expensive breast cancer medicine and therapy. Because SSE is active within the punk rock community, the Shirts For A Cure project was launched to give voice to the social concerns of punk bands and their many fans.

When a band donates a shirt design, the design becomes an SSE exclusive. We sell the shirt and use the proceeds to help women fighting breast cancer. If you would like to support our cause by purchasing a shirt. All shirts are printed on 100% pre-shrunk cotton. Each shirt costs $12 plus shipping and handling.
Rock Sound loves us
12.09.05
Yo bitches, we're in Rock Sound again to coincide with our UK tour. Check it out! Should be on sale now.
Cave In + Taste of Chaos Tour + MONO Tour
11.18.05
Peeps, we're hitting the road hard in 2006. First, we go to Europe for five weeks with Cave In, hitting a ton of spots. Route coming soon. February 1 to March 8.

Then in the US we're on this tour from March 18 to April 2nd, with some off-tour shows to fill out the dates and get us home. It's called Taste of Chaos, and it's with a bunch of bands I'm sure no one thought we'd play with. But we're down, as it's always cool to play for new people. I'm sure the tickets will be expensive and shit, but we're headling the second stage (so we go on before Thrice and Deftones on main stage). I think our stage is all accoustic and then us !?!?! Well, they're in for a nice change of pace. I'll post a routing when we have it. We start in the Midwest and head West. Go to www.tasteofchaos.com for details, I guess. I think it's kinda looking like this:

3/18 Toledo, Oh
3/19 Fargo, Nd
3/20 TBA-- non-taste of chaos
3/21 Des Moines, Ia
3/22 St Louis, Mo
3/23 Kansas City, Ks
3/24 TBA -- non-taste of chaos
3/25 Denver, Co
3/26 Salt lake City, Ut
3/27 TBA -- non-taste of chaos
3/28 Fresno, Ca
3/29 Sacramento, Ca
3/30 TBA -- non-taste of chaos
3/31 Las Angeles, Ca
4/01 San Jose, Ca
4/02 Taste of Chaos, Seattle or Portland
4/03-5 -- routing home


Then we're scheduled to support MONO for the entire US and Canada, from May 9 to June 9. These shows are going to have awesome support. Just wait and see. We're hitting every nook and cranny motherfuckers. East, South, West, etc. FINALLY -- and with our favorite band, basically.
New clothing for sale!
11.14.05
As if you don't have enough Pelican merch. We've got sweet new zip ups at the Hydra Head Shop. Link to it in the contacts section. Peace.
UK dates
11.04.05
UK dates for December have been added to the dates section.
Cool things to check out ...
10.31.05
here. here.
hydrahead version of MONO split lp
10.14.05
the Hydrahead version of the split lp with MONO is available now HERE. it is available in four different colors that are different than the red color that was available from temporary residence but is now sold out. some new tshirt designs are available as well.
Flower 15
09.27.05
Flower15 Tickets and eight-show festival passes will be available through Ticketmaster starting on September 17th at 12:00 PM. In addition, you will be able to purchase tickets without a fee at the Metro Box Office (3730 N. Clark Street) on the same date. Check http://www.flower15.com and make sure to visit the tickets page on September 17th for information. Once onsale, remaining tickets are sure to go quickly! HERE, and HERE.
EP vinyl repress! FOREVER IN PRINT!
09.02.05
Our self-titled EP, which is our demo, is repressed FOREVER. That's right -- the label has decided to keep it print for a while, so we're amped. The label, Cock of the Rock, did a new pressing this summer, this time with badass gold covers, and they're gone. So, for anyone that wants the EP on vinyl, please stop shelling out $67 for it on eBay. That's ridiculous ...
Hurricane disaster relief
09.02.05
Well I'm sure everybody is familiar with the horrific events in New Orleans, Mississippi and Alabama. Just wanted to post the link to the Red Cross, so we could all give and help the many people down there who need it. Here is the link: Red Cross.
March Into the Sea EP on vinyl + MONO split
09.01.05
March Into the Sea is almost ready on vinyl. We will definitely do a special pre-order for this one, as it is in limited quantities. More info soon. I swear, anytime now! The cover art looks just crazy. If our summer poster was any indication of what the fine folks at Burlesque Design can do, then you know you're in for a treat. And the MONO split is just about out on the streets -- get it from Temporary Residence or Hydra Head. Links in the Contact section.
Lair of the Minotaur new records soon!
09.01.05
Check them out at LOTM and look for a new full length and 7" to change the metal world real soon. Out on the Lord of course! I just heard the test pressing of the new record and it fucking smokes all.
Chat, motherfuckers
08.09.05
Here is a new Web board. Enjoy yourselves! BOARD.
Enjoy ...
06.21.05
e-card for the new album. This record is out everywhere. If you have trouble finding it, you can always email us or the label.
My Space
05.31.05
myspace.com/pelican. And props to Mike Deadhero for setting this shit up and helping with it! Mike.
Contact info for us!
12.14.04
The pelicans@cometlink.com address is no longer valid. For General correspondence - pelican_tusk@yahoo.com. Thanks.
TUSK new full length is out
09.16.04
Most of you probably don't know about TUSK; it's an "adventurous" grind band we were doing prior to Pelican. We have one full length, "Get Ready," on He Who Corrupts, Inc. We just released the second album, "Tree of No Return." It's a concept record, really both lyrically and musically, about a wanderer who gets lost in the woods and inherits dementia due to starvation. The CD version came out on Tortuga Records in late August. Check out the site (Tortuga) if you don't know Tortuga, the Hydra Head sister label and home of troublemakers Scissorfight. We're truly blessed. For vinyl, check out this site. Unfortunately, the first pressing is gone. But another is on the way. Also, a new Tusk album is in the works. It'll likely be our last.